How much do you know about scuba diving? The word scuba is actually an acronym for self-contained underwater breathing apparatus, and Kill Devil Hills is one of the best places to go scuba diving in North Carolina. Visitors to Sea Ranch Resort enjoy viewing the many shipwrecks along the Outer Banks coastline. And while there are plenty of shipwrecks visible by land, there are even more lost at sea. Whether you're a new or experienced diver, you'll have fun while scuba diving the Outer Banks wrecks. Here's our guide to scuba diving in North Carolina.
Outer Banks Scuba Diving Lessons
Roanoke Island Outfitters and Dive Shop is an incredible North Carolina diving resource. They offer scuba diving lessons, equipment rentals, and charters. It's the go-to shop for expert divers and brand new daredevils. If you're looking for Outer Banks scuba diving lessons, Roanoke Island Outfitters has several options and packages.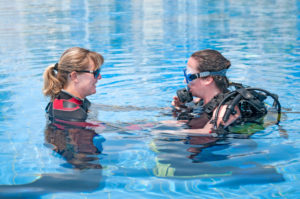 Try Scuba is a beginner's lesson in the pool. You'll be fitted for equipment and taken to the warm pool for an introduction to basic scuba practices. Divers must be at least 10 years old, comfortable swimming in the water, and free of heart or respiratory conditions. 

Naui Scuba Diver is a more extensive entry-level class. It's the best option for those who want to try scuba diving in North Carolina both in a pool and the ocean. You'll start in the classroom, then head to the pool before graduating to open-water dives.

Rusty Diver Check-Out is designed for people who were experienced divers but have not practiced in a year or longer. You'll refresh your knowledge of the basics and practice in the quarry with an instructor.
These Outer Banks scuba diving lessons are just 20 minutes from Sea Ranch Resort, and many of their beach dives start right here in Kill Devil hills.
Scuba Diving North Carolina Wrecks
If you're a certified diver, or if you completed a lesson package, Roanoke Island Outfitters and Dive Shop will take you out to some of the most famous North Carolina diving sites. You'll become familiar with the beautiful Outer Banks beaches during your stay at our Outer Banks hotel on the beach, and some of the best North Carolina diving sites, such as the Huron, can be found just off the shore. They also offer more advanced, deep-water scuba diving in North Carolina. To visit dive sites like the German U-boat U-85, opt for their charter boat. Scuba diving in Outer Banks is full of variety thanks to the many species of fish and underwater attractions.
Outer Banks Hotels on the Beach
When you're not gliding deep beneath the surface of the ocean, relax on the sand outside Sea Ranch Resort. As one of the best Outer Banks hotels on the beach, our oceanfront guest rooms provide unfettered access to the sandy shores. Contact us today to schedule your North Carolina adventure!