Pet Policy
Dogs only and limited room availability
Dog-Friendly in the Outer Banks…
When Your Furry Friend Wants a Vacay Too!
This  information pertains to dogs only — no other pets are permitted.
We understand that you may want to bring along your dog on vacation, so we have a limited number of guest rooms designated as dog-friendly and welcome your visit. Please read our policy thoroughly to prepare for a happy and successful stay at Sea Ranch Resort.

A Non-refundable Pet Fee applies of $40.00 per night/$20.00 per night for the second dog. Additional fees may apply if special cleaning or repairs are required.
Please call us when you are ready to make your reservation so we can ensure there is dog-friendly room availability during your planned visit with us. We are happy to help with arrangements. On-line reservations can be made, but you must select a room type option that states it is dog-friendly, add it to your reservation and the associated fees will be applied. Dog-friendly rooms are not available to guests who book through third parties. No other pets are permitted at this time. If you have any questions that are not covered below, please contact the front desk.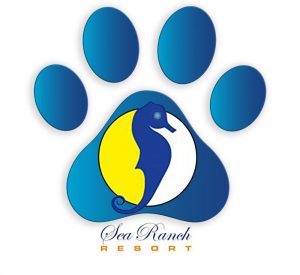 A (provided) pet notification hanger must be kept on your door at all times during your stay.
Proper medical certification specifying all vaccinations are up to date must be available upon request.
Dogs are to be attended at all times and not left alone in guest rooms.
Dogs are required to have provided tag on collar at all times.
Dogs must be on controllable leash or in a carrier at all times when the pet is outside your guest room.
Dogs must be kept in designated areas. Pets are not permitted in property restaurant, pool area, and fitness center.
Note and follow the restricted times for dogs on the beach.
Remove and dispose of any trash or waste associated with your dog in and around resort premises.
Dog owners are requested to remove their pet from the guest room during housekeeping or other required services. Should a pet be present, pet owners must be present and the pet caged or restrained.
Dog owners will promptly address any pet complaints from fellow guests or staff. In the event you are unable to satisfy the request, you may be asked to leave the property and could be financially responsible for any and all costs associated with appeasing the disturbance.
Dog owners accept full responsibility for any injury or damage caused or alleged to be caused by your pet and incurred or alleged to be incurred by any guest, employee, or invitee of the resort. Pet owners agree to indemnify, defend, and hold harmless the resort from and against any and all alleged or actual losses, claims, damages, liabilities, costs, and expenses (including attorneys' fees and court cost) suffered by the resort or asserted by any other resort guest, invitee, employee or person arising out of or in connection with your dog's stay at the resort.
Subscribe to our Newsletter
Sign up today to find out about upcoming events, special offers and latest news.
Physical Address
1731 N. Virginia Dare Trail, MP 7
Kill Devil Hills, NC 27948
Mailing Address
P.O. Box 325
Kill Devil Hills, NC 27948
Phone
252-441-7126