Kill Devil Hills is right in the middle of the breathtaking Outer Banks coast. At the Sea Ranch Resort, sandy beaches stretch for miles in either direction, and the glittering Atlantic Ocean is right at our doorstep. In addition to soft sand and the sea breeze, Kill Devil Hills is a gold mine for any history buff or Pirates of the Caribbean fan, for the Outer Banks is famously dubbed the Graveyard of the Atlantic due to its many historic shipwrecks. This is our complete guide for exploring Outer Banks shipwrecks and pirate lore.
Driving Tour of Outer Banks Shipwrecks
Most of the Outer Banks shipwrecks have been swept away over the decades, but some remnants remain hidden beneath the sand. Storms occasionally unearth these historical treasures. There are many documented, timeworn pieces scattered across the coast for you to visit by car and on foot. These five are within an hour of the Sea Ranch Resort's comfortable oceanfront accommodations.
There are even more Outer Banks shipwrecks that aren't visible from land. To learn more about this part of North Carolina history, purchase the National Geographic Ghost Fleet map, which marks over 500 Outer Banks Shipwrecks, online, or pick one up at the Wright Brothers Museum in Kill Devil Hills.
Outer Banks Ghost Tours and Sailing Charters
Visiting the historic Outer Banks shipwrecks is an inexpensive way to get out and explore North Carolina. However, to learn about the local lore and take a ride on a real ship, these are the tours for you.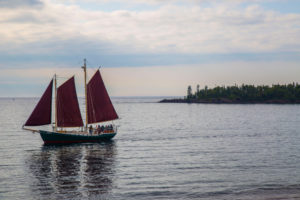 The Downeast Rover

is a tall ship sailing charter in our neighboring town of Manteo. It's a gorgeous 55-foot topsail schooner that was built in the 1980s. It's not technically a pirate ship, but you'll still feel the ancient power of the misty ocean wind as it fills the red sails above your head. The best way to view the mighty Atlantic is by sailing North Carolina.

Outer Banks Tastes & Tales

is another small business in Manteo. Their specialties are Outer Banks ghost tours and scary stories. Their walking tours feature age-old pirate fables and other ghost stories, plus you'll get to see historic homes and taste adult beverages.
At just 20 minutes from our oceanfront Outer Banks resorts, these tours are endlessly fun and convenient. 
Outer Banks Resorts on the Beach
After learning all about the history of sailing in North Carolina, head back to Sea Ranch Resort for a calm night by the beach. Grab dinner with a view and relax to the soothing sounds of the ocean. Give us a call at 252-441-7126 to book your stay!