Going on vacation is one of the top ways to make memories that'll last a lifetime. Whether planning a long weekend getaway or a seven-day escape, the Outer Banks is filled with countless adventures that are sure to leave a lasting impression. One of the best ways to remember your time in this North Carolina region and at Sea Ranch Resort is by taking pictures of your Outer Banks excursions.
A Checklist of Photo-Worthy Outer Banks Attractions
Nowadays, you don't need a big fancy camera to take photos while on vacation. You can get Insta-worthy images with just your phone. While candid moments out and about are some of the best pictures, there are some Outer Banks landmarks you should also try to shoot.
You never know what else you'll stumble upon while exploring, so make sure your phone is always charged and ready.
Unwind Beachside at Sea Ranch Resort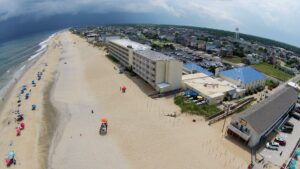 Thanks to our beachfront location, you can also capture stunning pictures of Outer Banks sunsets and scenery right at Sea Ranch Resort. Enjoy the ultimate beach day right outside our doors before stopping by The Beachside Bistro for a bite to eat.
When you're ready to turn in for the night, you won't have any trouble relaxing in the comfort of your cozy yet spacious room. Our Outer Banks resort features a range of accommodation options, perfect for everyone from families to couples. Learn more about our lodging options, phenomenal amenities, or ways to save on your stay by calling 252-441-7126.