Some of the best adventures on vacation happen when you simply get in your car and drive around. This is especially true in the Outer Banks. Found along the Kill Devil Hills shoreline, Sea Ranch Resort is the perfect home base. Set off from our oceanfront hotel to discover nearby charming towns or stunning parks. Of course, no trip to the Outer Banks is complete without getting an up-close look at the lighthouses that dot the landscape.
Map Out a 3-Stop Lighthouse Outing
For years, the lighthouses found along the Outer Banks coast have protected and guided ships that navigated these waters. Today these structures are open to the public and serve as landmarks that help tell the story of this region.
Start your journey at the Roanoke Marshes Lighthouse in Manteo. What stands today is the fourth incarnation of the lighthouse. During your visit, take in the educational and historical exhibits that help showcase Roanoke ISland's maritime history.
First built in 1872, the Bode Island Lighthouse underwent several upgrades and revisions over its years of service. This structure is now a visitor center for the Cape Hatteras National Seashore and a ranger office. Climb to the top of the lighthouse to take in breathtaking views.
While Cape Hatteras Light Station is the furthest away from our Kill Devil Hills resort, it is one of the most popular attractions in the Outer Banks. Found near Cape Hatteras, this Buxton landmark worked to protect ships in one of the most hazardous sections of the Atlantic Coast.
Plan Memorable Outings from Your OBX Home Base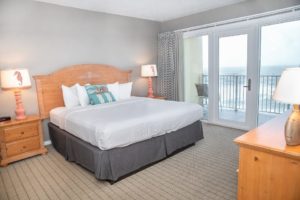 When planning your itinerary, it won't take long to discover adventure is all around you when you stay at Sea Ranch Resort. Whether you're looking to tour lighthouses or cast a line from a fishing pier, there is something that fits the bill in the Outer Banks. Our oceanfront resort is perfect for everyone, from families to couples.
We strive to bring you accommodations that provide you with a cozy place to call home. From oceanfront guest rooms to spacious condos, we have it all. Our resort also offers incredible amenities designed to enhance your vacation. Call 252-441-7126 to learn more about these amenities, our resort, or special offers.