While it seems like the holiday season is still a ways out, it'll be here before you know it! Don't be caught off guard by planning your memorable getaway to Sea Ranch Resort today. This family-friendly resort in Kill Devil Hills is the perfect destination for anyone looking to make the holidays a little more special this year. When planning your visit, take some time to research what to do in the Outer Banks that'll get you into the holiday spirit.
A Guide to 5 Top Outer Banks Events and Activities
While you may not get a snow-filled holiday, there are still plenty of things to do and see in the Outer Banks that bring the joyous energy of the season to life.
Reserve Your Beachfront Hotel Stay Today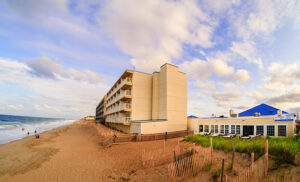 Between researching what to do in the Outer Banks and booking your room at Sea Ranch Resort, your holiday getaway will be here in the blink of an eye. By planning a memorable trip to our Outer Banks resort, you are giving you and your loved ones a chance to create lifelong memories.
The first step in having an unforgettable trip is researching which of our accommodations fits your group best. With guestrooms and condos in a range of sizes, we have something for everyone. You'll also want to check out our special offers for ways to save. To learn more about our Kill Devil Hills hotel and its amenities, call 252-441-7126.