From sports to music lessons to work meetings, it can seem like there is always something pulling your family in opposite directions. However, there's an easy way to fix this, and that's packing your bags and heading out on an Outer Banks family vacation. Sitting near the ocean in Kill Devil Hills, Sea Ranch Resort is the perfect home base, but there's some work to do before you arrive. To help you have the best vacation possible, we've put together three easy steps that are sure to make your planning process a breeze.
Step 1: Reserve Your Stay ASAP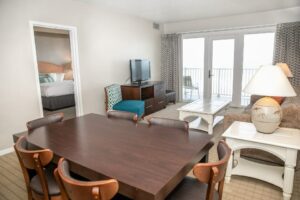 As summer approaches, families throughout the country start planning their escapes. Because of this, it's important to book your stay at our Outer Banks resort as soon as you know your vacation dates. Our hotel features a variety of room styles, including oceanfront guest rooms and condos. While every room is the perfect place to call home, you're sure to have a top preference, and booking early ensures you have a better chance of getting your first choice.
Step 2: Make a List of Top Activities and Attractions
No matter the age of your children, the range of things to do and see in the Outer Banks means you won't have any trouble finding adventures the whole family will enjoy. This includes spending a day at H2OBX Waterpark or going on a self-guided lighthouse tour with a stop at Roanoke Marshes Lighthouse. With so many things to experience, chances are you won't fit everything in one trip. Making a list is a great way to make sure you hit everyone's top choices. Doing this ensures everyone gets to enjoy something they're looking forward to most. When putting together your list, check to see if certain attractions or activities require reservations.
Step 3: Pack Your Bags and Hit the Road
After double and triple checking everything is crossed off your packing list, make your way to Sea Rench Resort for an unforgettable Outer Banks family vacation. Make the most out of your stay by enjoying our fantastic on-site amenities like convenient beach access, an oceanfront restaurant, and a heated pool. For any questions, from how to book your stay to ways to save, call us at 252-441-7126.