Many anglers come to the Outer Banks so they can have quick access to fantastic fishing. Although you have a great chance of catching the big one throughout the Outer Banks, there are certain spots where you have a better chance of hooking your fish story. Enjoy some of the most popular places to fish in the Outer Banks with Sea Ranch Resort.
Fishing from the Outer Banks Piers
The Avalon Pier is one of the newest piers in the Outer Banks. It's a central location for anglers, and it frames spectacular views. You can fish in the shallow waters or walk farther onto the pier to access deeper waters. It's the best of both worlds providing plenty of different opportunity reel in a wide variety of fish. As one of the oldest piers, Nags Head Pier has been the perfect place for a family fishing day for hundreds of generations. Start the day with breakfast at the Pier House Restaurant and head onto the pier to cast your line in the sea.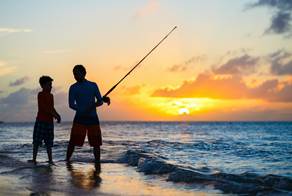 Shoreline and Charter Fishing
Try some local sound side fishing! Sound side fishing offers an opportunity to cast for a different variety of fish, such as flounder, rock, spot and more. You can fish from many places on the shorelines; you can easily cast your reel and access other family activities all in one spot. Shore fishing gives anglers the ability the chance to chase the fish without keeping their family waiting for them. There are plenty of shops, restaurants nearby keeping everyone entertained while you enjoy the fishing experience. Cape Hatteras National Seashore is the ultimate beach day place for the family. Hatteras beaches spread for miles and offer plenty of space to wander and try new activities like surfing, beach games like cornhole or beach volleyball. Pack a lunch and enjoy the sun on Cape Hatteras. If you're a fishing family, you may want to look into purchasing a charter pass and make it a unique experience. No matter where you end up casting your line, the whole family will have a blast on this fishing excursion in the Outer Banks. Fish comfortably and catch some trophy fish while staying in outstanding rentals thanks to our premier Sea Ranch Resort accommodations. The Outer Banks will be the highlight of all your fishing stories!