Tracy and Adam got married right here on the beach at the Sea Ranch Resort!
When you plan a destination wedding, it's even more important to capture the 'feeling' of having your family and friends attend.
Your guests who do accept the invitation tend to devote more time, energy and expendable budget funds to be a part of your celebration.  A trend that seems to be turning into a tradition is having group photos after the wedding ceremony….and here at the Sea Ranch, the beach provides such an accessible backdrop that gathering all of your guests for group pictures full of smiles will provide a lifetime of memories to hold dear.
Also, inclusion of family members in the bridal party seems to be growing—especially when it comes to including children, and even pets!  We've had recent weddings that invited a bevy of tiny tots to be ring bearers and flower girls.  Of course, the joy of including the little ones is a perfect preface to your processional….they give the gift of happiness (even through nervous tears) that perfectly introduces the bridal party, and the bride!   Keep in mind that you're not limited to, or restricted to one ring bearer or flower girl—invite them all!  It's like having a beautiful bouquet of flowers, each bloom adding something special to the cluster.  And, if the little ones are TOO little to walk, consider a decorated wagon (with safety features, of course); though they may be too small to understand the ceremony's purpose, they will love riding through the sand to be such a wonderful part of the services.
Make the ceremony YOURS—bring your vision to your wedding.  Color outside the lines :-)!
(Photos by Belinda Lucey)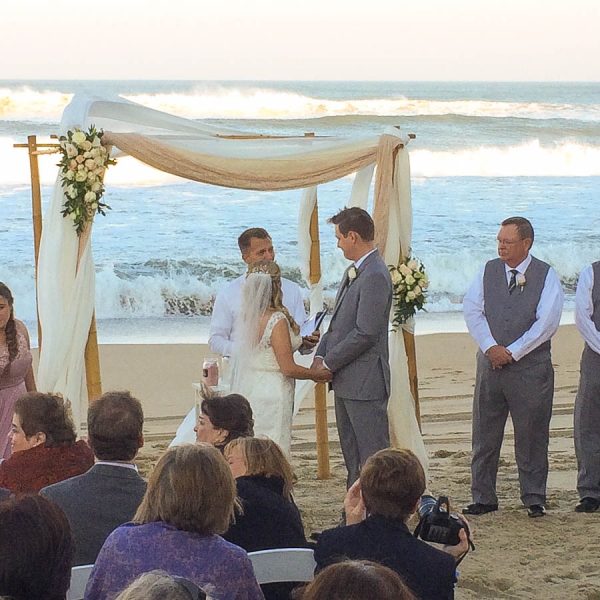 The Sea Ranch Resort is an oceanfront hotel located in Kill Devil Hills, NC. We feature an Outer Banks Wedding Venue and can offer oceanfront accommodations to you and your group. We specialize in OBX beach weddings and treat our guests like family. Our ocean view condos are perfect for you wedding or honeymoon as well!