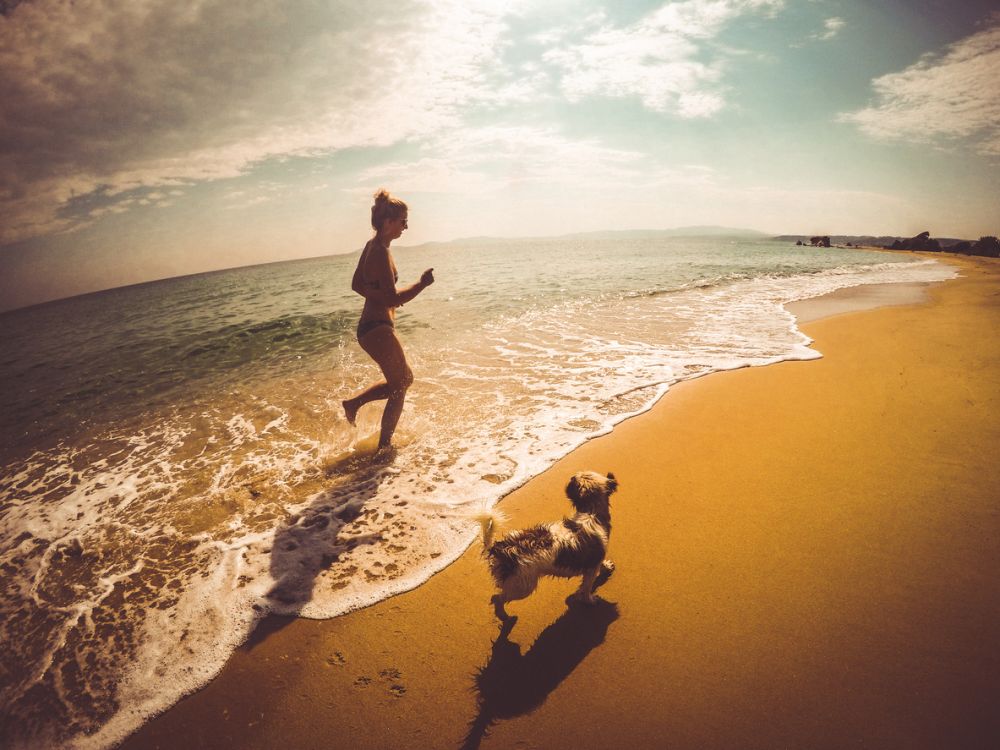 Dog friendly Days On The Outer Banks
Pup-Centric Things To Do Near Kill Devil Hills, NC
Prepare for Dog Friendly Days On The Outer Banks
Experiences are always more enjoyable with your loved ones beside you. If you and/or your family have a furry resident, read our blog with some canine- friendly activities and places to visit on the Outer Banks of North Carolina. Dog Friendly Days on the Outer Banks is something that is waiting for you with some simple planning!
Elizabethan Gardens
Have you ever been to the beautiful Elizabethan Gardens in Manteo, NC? The Elizabethan Gardens have the ability to transport you to a different world within the Outer Banks. 10.5 acres of beautiful florals and greenery adorn the property throughout the year. Full time gardeners and employees tend to seasonal plants to ensure a beautiful scene year-round. The best part of the gardens? Your furry side-kick is allowed entry. Read about the Elizabethan Garden's pet policy here.
Wright Brother's Walks with Your Dog
Arguably one of the most famous events of the Outer Banks, the Wright Brothers flew the first airplane in 1903. Kitty Hawk still holds a reminder to this extraordinary historical event with the beautiful Wright Brothers Memorial. Although Pets are not allowed in the buildings, they are welcome to walk around the large memorial with you as long as they are secured on a leash no longer than 6′. Dog Friendly Days on the Outer Banks are made even better by a visit to this fantastic location!
Dog Dunes
Another famous Outer Banks landmark is Jockey's Ridge state park, the tallest natural sand dune on the east coast! Jockey's Ridge is located in Nags Head, North Carolina across from Kitty Hawk Kites. The views from the park are indescribably beautiful all around, especially at sunset. One side of the dune subsides into the sound waters on the OBX. The park is dog friendly as long as your pup is attached to a 6′ leash.
Outer Banks Beach Dog Rules
The good news about fall on the Outer Banks is that the dog restrictions on the beaches usually become a bit more friendly to animals! Less people means more room for our furry friends. The cooler temperatures are also more comfortable for dogs' play. Every town has its own rules, so be sure to research those ahead of time. Below is a link to each of the OBX town's canine beach policies. Hatteras pups are allowed to have fun year round on a leash at Cape Hatteras National Seashore. Dogs are allowed on Nags Head beaches year round as long as they are on a leash. In the town of Kill Devil Hills dogs are only allowed on the beach after Labor Day and before Memorial Day with a leash. On the dates between Memorial Day and Labor Day you may take your pups for a early morning walk before 9 am or after 6 pm. During 9 am and 6 pm only service dogs are allowed on the beach during the summer season. Dogs are allowed year round on Kitty Hawk beaches. Dates starting on the Friday prior Memorial Day and the day after Labor Day dogs must be on a leash between the hours of 10 am and 6 pm. Outside of these dates, if your pup will not disturb other beachgoers they may run off-leash (with a leash in-hand by the owner that's within 30 feet of the dog at all times). From May 15-September 15 dogs are only allowed on Southern Shores beaches before 9 am and after 6 pm on a leash. The remainder of the year dogs are allowed on the beach as long as they are on a leash. Duck dogs are allowed on the beach year round off leash as long as their owner is supervising nearby at all times.
Dog Friendly Rooms at the Sea Ranch Resort
After you day of exploration with your canine companion on the Outer Banks, relax at one of our dog friendly rental rooms at the Sea Ranch Resort. We are located in the heart of the Outer Banks in Kill Devil Hills. Read about our pet policies here! We our proud to support our guests and their furry companions enjoy Dog Friendly Days on the Outer Banks. https://www.youtube.com/watch?v=kBiQJbE2ADU    
Subscribe to our Newsletter
Sign up today to find out about upcoming events, special offers and latest news.
Physical Address
1731 N. Virginia Dare Trail, MP 7
Kill Devil Hills, NC 27948
Mailing Address
P.O. Box 325
Kill Devil Hills, NC 27948
Phone
252-441-7126